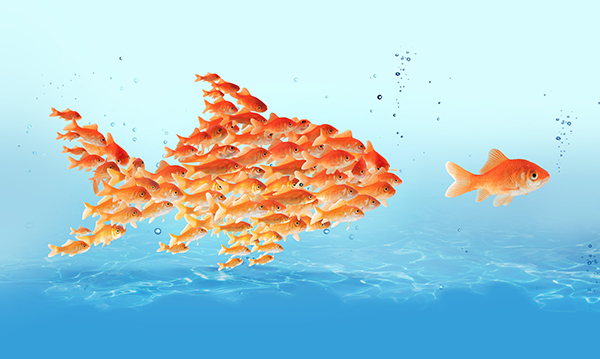 Rob Grindlay
Partner: Generate / Generate Insights
Let's consider some shifts and pressures in the marketing communications world.
First, Air New Zealand's senior manager of content strategy and creative services, Maria Ryan-Young says: "Having one team internally supporting the breadth of our business, with how our brand architecture and expression are represented, ensures consistency – as we are typically the ones doing much of the design."* This is just one corporate endorsement for 'in-housing' services.
Second, PWC in their 'CEO 2018 Survey' reports: "Availability of key skills is the second greatest risk to business growth in New Zealand." In fact, "56 per cent of local respondents said they're struggling to find the digital talent their organisation needs." And, "It's that mix of hard skills in digital disciplines, and more general business acumen, that's driving this overall difficulty in finding the right staff."
In the agency (or service) sector, there are mergers galore with re-structuring to:
a) be better positioned to meet changing client needs and,
b) maintain scale, in the face of diminished billings and the erosion of overheads on profits.
And with more assignments being project based, there's less work-flow continuity, so skills that are maintained on the front line (as a staff overhead) are more tightly controlled.
On the client-side, business managers are being tasked with doing more with smaller budgets, requiring more 'direct' engagement of diverse skill-sets… such as designers, tech developers, social media operatives, writers and other creative types.
As a final layer, with all this in the mix, both clients and agencies are challenged with creating highly innovative content to engage elusive audiences.
So, with specialist skills as a consistent stress-point, there's an obvious need for assistance that empowers clients; supplements key players already in the game; and is delivered on an as-needed basis, in areas NOT typically required on a day-to-day basis.
THE FREELANCE OPTION
One common response to these pressures is to look for freelance input. And this can indeed be an effective stop-gap, but there are some inherent challenges here too:
(1) HIRING THE WRONG PERSON: HR managers, business owners, and employers in general often make one fatal mistake – they interview freelancers in the same way they would a future on-site employee. Remote work requires self-discipline, self-motivation and resourcefulness but with an openness for interaction to understand client culture.
(2) COMMUNICATION PROBLEMS AND LACK OF CONTACT: There can be a tendency for freelancers to work on projects when they feel inspired, rather than when needed. As well, updates on progress may not happen.
(3) MISUNDERSTANDINGS: When instructions aren't clear or detailed enough, a project may be completed in a different way than expected, wasting time and resources.
(4) MISSED DEADLINES: It's normal for contractors to juggle multiple projects, with the freedom to choose which projects are completed now, and which can wait a week or two. Maintaining project momentum (without micro-management) can be draining for clients.
(5) PAYMENT ISSUES: Fee agreements need to anticipate possible shifts in a project to avoid stoppages or budget blow-outs. And payments may need international bank transfer, if contractors are off-shore.
A 'SKILLS NETWORK' RESPONSE
So, what is a Skills Network? Think of it as 'enhanced freelance', mitigating many of the problems open freelance arrangements bring. Yet it can sit alongside existing freelance arrangements without creating friction.
Figuratively speaking, it's like having an orchestra playing behind your rock band. Suddenly your output has added depth and sophistication, yet there are options to add a strings section, a wind section or percussion as well. And you remain the lead-singer (or indeed conductor).
THE BUSINESS CASE FOR A SKILLS NETWORK
There are many benefits to this arrangement:
Skilled professionals, with expertise in specialist disciplines, are on tap as needed. Some skills are uneconomic to hold in-house, due to sporadic need along with expensive technologies e.g. broadcast video recording and post-production
Payment is only made for producing, thus lowering overheads and side-stepping the management of staff downtime
With management inherent within the process – a co-ordinator ensures smooth progress throughout – and one port-of-call for accountability and reporting
The workforce is vetted to assess suitability (of skills and personality) for tasks, and done with a depth of understanding for the workers' culture and personal circumstances
Communication technologies are deployed to mitigate the remote/networked nature of the workforce
Payment and admin systems are already established to manage any e-commerce functions
SKILLS NETWORKS AREN'T FOR EVERYONE
Those businesses carrying large production, PR and media-buying workloads will still need full-service assistance. Wherever high-demand, hands-on, day-in-day-out attention is needed, in-house facilities or specialist external providers will be better options. And along with this, account service personnel will play an important role.
Where a skills network may be the right solution is when there's a need to:
Cover work-demand spikes
Access specialist skills that are not economically viable in-house for a specific project e.g. tv production, data analytics, creative animation, etc.
Fill the role of an 'agency' at a lower cost
Contend with a significant stand-alone project, such as a branding overhaul or web-site development
No doubt there'll be many more instances where a skills network will be useful, but the best approach is to first assess day-to-day business pressures… then consider how this flexibility might ease some of the stresses.
To know more, ask about our skills network: UNDER the RADAR
* Article: StopPress NZ – March 13, 2019